Hey friends! I don't know about you guys, but I love wearing athleisure! I workout daily, do school at home, do work at home and usually when I go out on the weekdays, I can just wear more causal clothes. All that being said, athleisure works really well for my lifestyle right now and while I do enjoy dressing up, it's not really something I do on a daily basis. I know so many of you enjoy wearing athleisure looks even if you go to school/ college or work outside your house so I thought I'd make a compilation of some of my favorite athleisure for spring & summer that is cute, affordable and comfy!
Athleisure Items I Own & Would Recommend
AE The Everything High-Waisted Leggings – Ultra comfy, super soft and just high quality feeling. I love how soft these are and how they keep your legs cool when it's hot and warm when it's cold! They also aren't see through at all and are very thick, but not scratchy and are very breathable. I wear them around the house, out and about and also (of course) to run & workout. They have the prettiest colors too, I love grabbing a couple of neutral pairs, but then also some fun printed or color block styles for a fun contrast!
Vineyard Vines Color Block Quarter-Zip Shep Shirt – One of my favorite quarter-zips of all time, super high quality and adorable! I love wearing mine with leggings, shorts and jeans!
Nike Women's Black & White Windbreaker – This one is my absolute essential for running! It can be worn with shorts or leggings to run in and is super lightweight – perfect for tying around your waist when things get sweaty! I've also washed it countless times (and dried it a couple times too, whoops, avoid drying if possible) and it has held up really well! I'd definitely recommend for spring, summer and fall runs!
Target Women's Crewneck Sweatshirt – One of my favorite sweatshirts, I absolutely love the washed blue color! It's perfect for wearing with leggings, sweats, jeans or shorts! It's cute casual & comfy and can easily be dressed up or down!
AE Forever Crewneck Sweatshirt – Another favorite crewneck of mine! This one is a little oversized and extra roomy which makes it perfect for layering and lounging! Super comfy and soft, but not too soft and fluffy for warm spring & summer days!
Under Armour Women's Fly By 2.0 Shorts – My absolute favorite athletic shorts! These are ultra comfy and I love all the color options! They also have a small hidden pocket on the inside – perfect for stashing your keys, card and other essentials (doesn't fit my phone unfortunately though).
Nike Light Gray Sweatpants – My favorite sweatpants!! I love these so much – they're not too loose and baggy with no shape, but they're also loose enough to be super comfy! The pockets are also SUPER helpful for carrying my phone around everywhere without getting it lost!
Patagonia Los Gatos Re-Tool Snap Pullover – Super comfy and perfect for chilly spring & fall mornings! Definitely an investment piece, but the quality is amazing and I know mine is going to last for forever!
Athleisure Items On My Wishlist
A little disclaimer: I don't own any of these items and have no idea the quality, fit, etc of the item but they all look super cute and high quality! If you guys have any of these make sure to let me know – I'd love to know if you like them!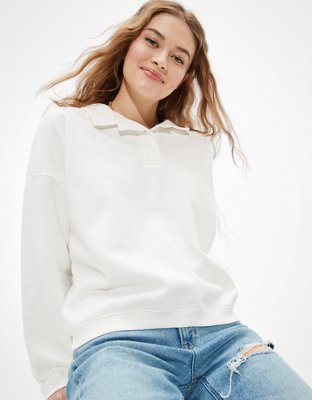 AE Fleece Polo Sweatshirt – I actually just ordered this one the other day, but it hasn't arrived yet, so I thought I'd put it here instead in the review section 😉. I love how this one is a little different than just a typical sweatshirt and it's 50% off at the moment, so go grab it now!!
Lululemon Align High Rise Leggings W/ Pockets – I've heard so many good things about Lululemon leggings and I've been wanting a pair for forever literally. Maybe I'll splurge the next time they go on sale… we'll see!
Lululemon Fast & Free Leggings – While the Align pants are designed for stretching (and lounging) these are designed for running. I'm also hoping to try these out soon to compare against my favorite running leggings from Nike & AE!
Target Twist Front Ripped Tank – I love how the little twist in the front adds a touch of style and fun to this tank top!
Women's Waffle Knit Shorts & Tee Set – I love how versatile and inexpensive this set is! I think you could easily pair the shorts with different tops and the top with different pants (I love the idea of jeans and sweatpants) to really mix and match!
---
I hope you guys will enjoy these athleisure finds! If you're enjoying these posts, I'd love if you liked this post, commented down below and subscribed! It really helps me keep this blog going! 😊
❤ Hannah
Here's a great image to save to Pinterest for later!