Hey guys! I don't know about you but winter makes we want to cozy up with a warm blanket, fairy lights and a cup of tea! And what's a better place to do that than in your bedroom? In today's post I'm so excited to share 10 of my favorite ideas to make your bedroom a cozy hangout this winter!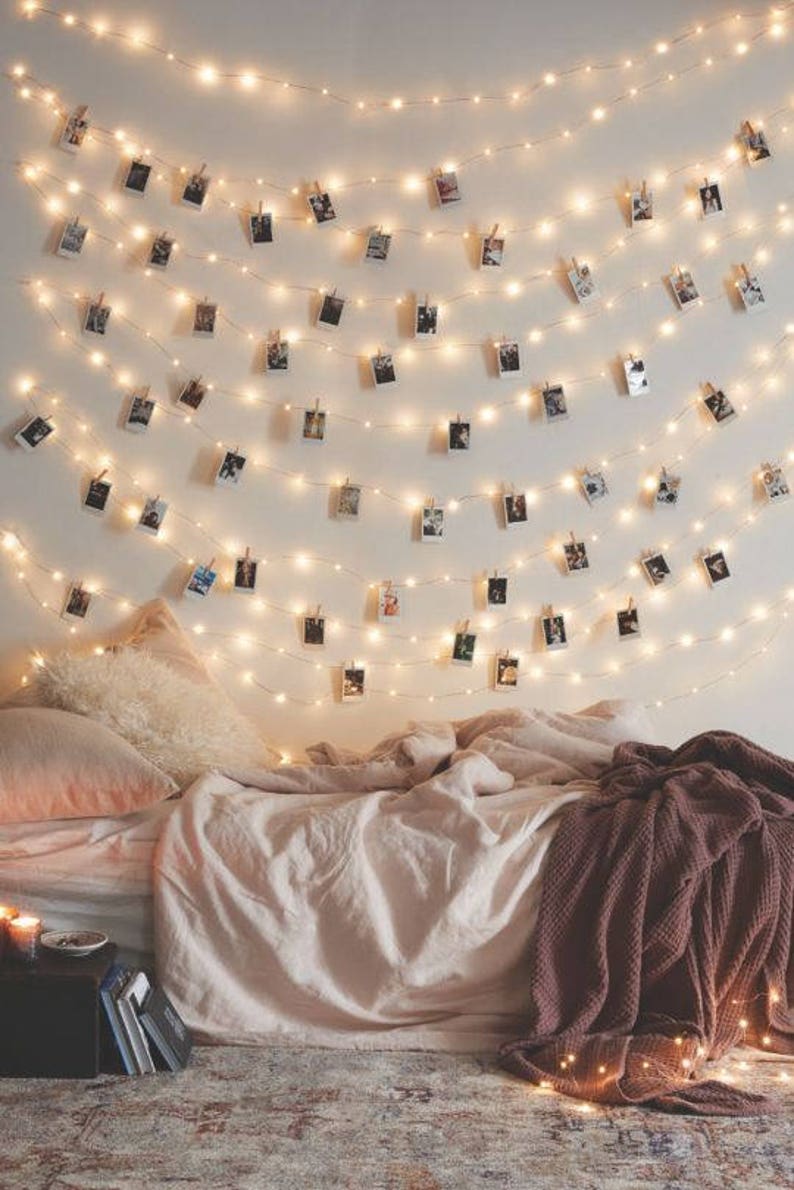 1. Add fairy lights. I have some fairy lights in my own bedroom, and ahh, I just love how these instantly add so much coziness and warmth to a room. Use some fun washi tape to hang them up, and you've got an easy & inexpensive way to make your bedroom more cozy!
2. Upcycle sweatshirts to make cozy pillows. Okay, I know, upcycle projects sometimes get a bad rep. And I agree, some upcycle projects don't turn out as great as we hope they will, but this one is different. I love sweatshirts, I wear them with shorts, with sweatpants, with leggings and with jeans. So I had the idea to take an old sweatshirt of mine and upcycle it into a basic pillow. Guys, it went SO WELL! And now I have a cozy sweatshirt pillow on my bed. Here's a great tutorial on how to make one, except I'd just use the back of the sweatshirt instead of picking out another fabric. My next project is to do this with a plaid shirt. 😀
3. Display some photos or polaroids. I don't really like my bedrooms current wall color and I am hoping to repaint sometime soon, but until then, I've taped a ton of 5″ x 5″ photos on the wall. You can hardly see the wall color, and I get to look at fun memories and inspiring quotes! I mostly used my own photos, then found some with quotes on them from Pinterest, but if you're not into photography, Pinterest has so many cozy looking photos!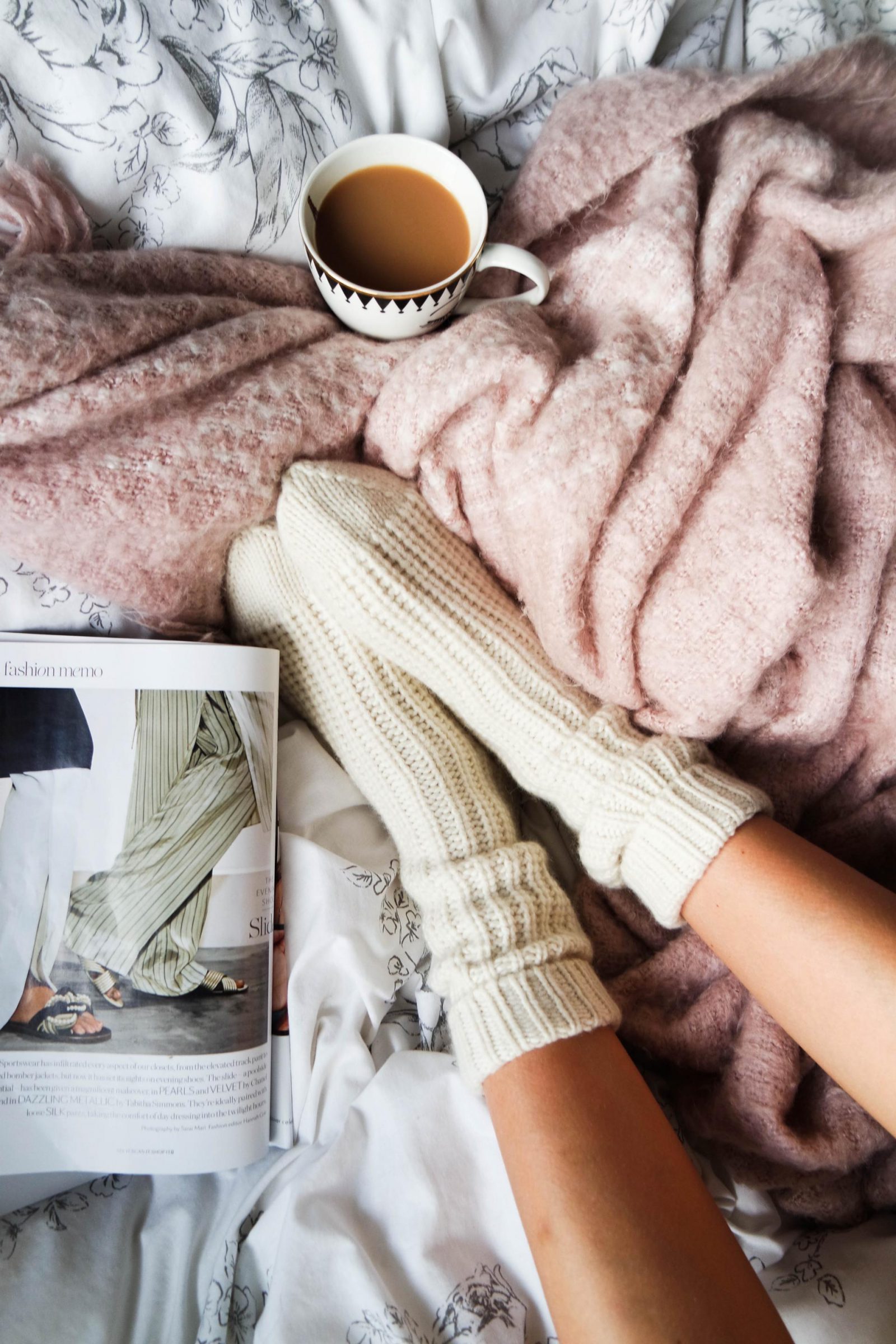 4. Get a fluffy blanket. Ooh, I love these so much! I have one on my bed and it's just so nice to snuggle up with on chilly winter nights! I currently just have a $20 blanket from Amazon and it's great, but eventually I'm hoping to buy a chunky knit dusty pink blanket, but right now they're just too expensive $$$. XD
5. Use your fireplace. (if you have one). My dream bedroom would definitely have a fireplace, it just makes everything so much more cozy! If you do have a fireplace, USE IT! For the rest of us, we'll just have to stick with the fireplaces that play Christmas music on our laptops. 😉
6. Keep it tidy. This is something that requires no money and just a little time. But guys, it's so worth it! Walking into a cluttered room when I'm tired or stressed makes me even more tired and stressed. Walking into a clean and tidy room makes things seem more calm and relaxed. It's also nice to not have to worry about the dog chewing your shoes or you losing your jewelry.
7. Add candles. I know, candles might seem like a hassle, or only reserved for special occasions, but lighting a candle instantly just adds so much coziness to a room. Be sure to keep the candle away from pillows and blankets though. 😉 🚒
8. Layer, layer, layer. I was scrolling through cozy bedroom photos on Pinterest and I kept asking myself, "What do these rooms all have in common that makes them so cozy?" It took a while, but I finally found what those cozy rooms all have in common: Layering. Layering different pillows, blankets and rugs makes the room seem so much more cozy and inviting. So add some different textures and patterns and layer it up!
9. Add some books. Another thing I noticed in many cozy bedrooms was books. Adding some books to your nightstand is a great idea to make your bedroom more cozy, and reading before bed, rather than looking at your phone is a great habit!
10. Plush mattress topper. Okay, so I might be slightly biased since I just started doing this, but it is pretty great! Plush mattress toppers make your mattress 1000% more comfy, and ahh, they're just so great!
---
I hope these tips will be helpful for cozying up your bedroom this winter! Happy Decorating!
💙 Hannah
P.S. All photos from Pinterest/Unsplash.com except the upcycled pillow photo.